Call (702) 987-0400 Book an Appointment Online
Dermal fillers are a great way to temporarily restore a youthful appearance to the face by diminishing lines and restoring volume to the face.
Some examples of how dermal fillers can be used:
Create definition and volume in the cheeks
Enhance the lips
Improve shallow or hollow contours such as tear troughs, temples, and lower cheeks
Augment the chin or jawline
Soften facial creases and wrinkles such as nasolabial folds and marionette lines
Improve appearance of recessed scars
Reconstruct contour deformities of the face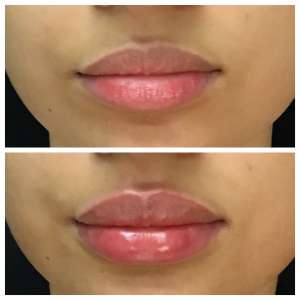 The Science:
Fillers are based on a substance that a occurs naturally in your body: hyaluronic acid. This molecule's function is to bind water, thereby regulating water balance in the skin, and boosting your skin's ability to effectively retain that moisture in the area injected. Fillers are a tissue-friendly, gel-like substance that closely resembles the tissue in the face. Over time your body will break down the hyaluronic acid.
There are many brands of fillers each with their own characteristics. Fillers are extruded as different "sizes" which makes them have a different "G-Prime". The G-prime is what makes a fillers "lift". Fillers with lower G-prime are smoother and thinner which is great for areas such as lips, tear troughs, and refining lines. Products with a higher G-prime provide lift in areas where you want more volume such as cheeks. Your provider will determine which product is best for you. We use HA products such as Restylane®, Juvederm®, and Belotero®, all of which can be quickly dissolved for any reason.
Ideal Candidate for Dermal Fillers:
Physically healthy
Has a positive self-image and realistic goals for improving their image
Looking to restore volume and diminish fine lines
Has no contraindications to treatment
What to Expect
During your first visit you will receive a consultation from your provider and a medical assessment from a licensed medical practitioner. If you have no contraindications and you have arranged your social and work schedule for potential down time, you can be treated the same day, if not you will schedule an appointment for another day. The treatment can take 30 minutes to an hour depending on where you are getting treatment and how many syringes of product are used. After treatment you will receive after care instructions and return in 2 weeks for a follow up to make sure everything looks great.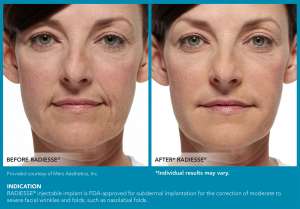 Frequently Asked Questions Regarding Dermal Fillers
Is this procedure painful?
Pain is subjective, so what might be considered "not too bad" for some, may be painful for others. Generally, basic dermal filler procedures require very little anesthetic. You may feel a slight pinching sensation when the needle enters the skin. We want to make sure you have the most comfortable experience possible and provide you with several pain management options. After treatment you may have some swelling or soreness that is generally relieved with cold packs.
Is there any down time?
Yes, you should plan on some down time, of course how long can vary from person to person. Bruising is usually very light but could be more extensive and take a week or more to resolve. Generally, makeup can be used to cover bruising. You may also have swelling that could take several days to resolve. To reduce the risk of bruising, prior to treatment you should be off any type of blood thinner for one week (fish oil, aspirin, ibuprofen, etc.) and no alcohol for at least two days. You can also take oral arnica Montana for 1 week prior if you think you are going to bruise. Do not plan on taking any flights for at least 3 days after your treatment.
How soon will I see results, and how long does it last?
You will see results instantly, and the results continue to settle over the following 2 weeks. Initially there will be some swelling. Some people think their filler disappeared, but it was just the swelling that went down. Those people are usually the ones who need more filler. On the other end of the spectrum are those freaking out because of the swelling and are thinking "what have I done?" Don't worry, the swelling goes away and the end result will be great.
Depending on the product the results typically last 12-18 months. Overall, the longevity varies from person to person, depending on the severity of the wrinkles and how your body metabolizes the product, your lifestyle and various other factors. Therefore, we cannot guarantee a specific amount of time that the results last.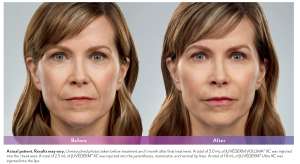 Will I look overdone or unnatural?
We say NO because this is a very important part of our brand, which is to look natural. We are not in the business of making people look abnormal. We are in the business of enhancing a person's natural beauty and good looks and helping them regain the confidence that may have been lost due to the effects of aging or having asymmetries. We take a conservative approach knowing that we can always add more if needed. Layering various treatments over time also allows for a slow progression in which no one knows what you are doing but they know you look great!
Are dermal fillers safe?
Yes. The products we are using have a proven history of being safe when used correctly, with very minimal risk to the client. The dermal fillers we are using have been used for more than two decades with an excellent safety record. We also use products that can be dissolved for any reason. However, dermal fillers are not without risk and it is very important to talk to your provider about and understand the potential risks before deciding to get fillers.
Risks
Common adverse reactions are bruising, swelling, skin redness, pain, asymmetry, lumpiness, under or overcorrection, and skin sensitivity. Less common and rare risks are infection, allergic reaction, damage to deeper structures, and worst of all- accidental intra-arterial injection which could lead to skin necrosis or loss of vision.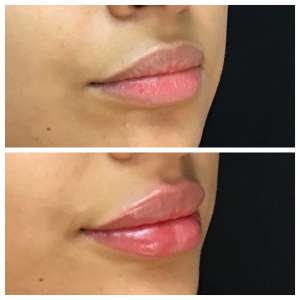 Contraindications
Pregnancy/nursing
Active infection near the site of injection
Active local infection (i.e. ear infection, dental abscess, etc.)
Active general infection (gastroenteritis, UTI, etc.)
Systemic infections (i.e. tuberculosis)
A known allergy/hypersensitivity to the material or lidocaine in the syringe
Active anticoagulant use, hemostatic, or coagulation disorders
Active connective tissue disease
Immune compromised
Body dysmorphic disorder
Unrealistic expectations
How much do dermal fillers cost?
The cost of filler varies depending on the product chosen and number of syringes needed. Most manufacturers offer reward programs to help reduce costs and often there are promotional or special prices offered by the provider. In general, a syringe of filler costs $600-$700.
If you are interested in dermal fillers contact our experts or book a consultation and treatment online.
Dermal Fillers for the Face and Lips
Let Our Expert Injectors Bring Out Your Natural Beauty
Enhance the Lips, Augment the chin or jawline,
Create definition and volume in the cheeks
Aesthetic Consultations Are Always Free
Contact Us to Learn More
Call and speak directly with one of our highly skilled Nurse Practitioners to discuss treatments options and current promotions.
Or set an appointment online for a free aesthetics evaluation.
Zenestar's boutique aesthetics practice offers a unique personalized experience. Visit us today.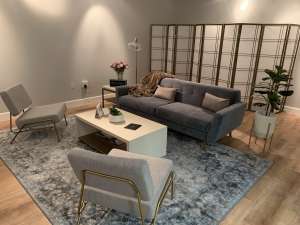 Zenestar is a boutique aesthetics practice located in Las Vegas, Nevada. Zenestar is run by Kim Borghese, a Nurse Practitioner and master injector who routinely trains other aesthetic providers.
Zenestar features a full service aesthetics practice in a relaxed and comfortable atmosphere. Our practice offers a number of treatments to help you look and feel your best, including dermal fillers. We offer the highest quality lip fillers in Las Vegas for beautiful lush-looking lips. Dermal fillers can also be used to create definition and volume in the cheeks, tear troughs, and temples. Injectable fillers are a popular way to rejuvenate the face without surgery or downtime. We offer a wide variety of cosmetic fillers to help reduce the early signs of aging.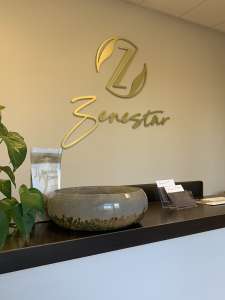 Another popular aesthetic service we offer are neuromodulators such as Botox, Dysport, and Xeomin. These products are effective at reducing lines and wrinkles and are one of the most popular in our practice.
You will receive a free initial consultation and assessment by one of our Nurse Practitioners. If you are a candidate for treatment we can provide treatment the same day. After your treatment we will schedule a follow-up two weeks later to make sure everything looks great.
If you are interested in learning more about our services or would like to schedule an appointment call now or book online.