Call (702) 987-0400 Book an Appointment Online
Dermaplaning (or blading) is one of the most in demand skincare treatments currently on the market.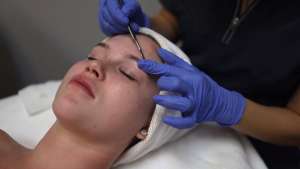 Dermaplane treatments provide immediate improvement in overall skin brightness, immediate improvement in skin texture, removal of dry, dead skin cells, and removal of vellus hair. Uncover new, nourished, and rejuvenated looking skin with this treatment. There is no downtime with this service, and results are visible instantly.
Dermaplaning treatments can also be done prior to other skincare procedures, such as chemical peels or facials, in preparation for better product penetration. When done before a chemical peel, the ingredients within the peel can penetrate deeper within the skin. This is ideal for clients with deeper acne scarring, hyperpigmentation, wrinkles, or simply wanting an advanced exfoliation treatment.
Benefits
Gets rid of unwanted facial hair
Exfoliating- Skin feels incredibly soft and has a healthy glow
Reduces the appearance of fine wrinkles and hyperpigmentation
Creates a smooth base for makeup
Unclogs pores
Allows skin care products to absorb more deeply
Stimulates cellular turnover
How it is done: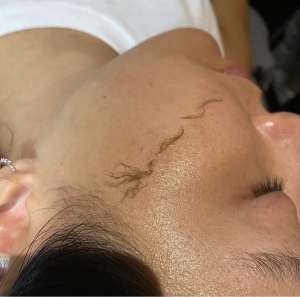 This non-invasive and painless service includes the use of a medical blade to exfoliate the skin, gently removing hair and the upper layer of dermis that includes dead skin, oil, and dirt. But it's more than just shaving your face and must be done by a licensed professional.
It is appropriate for all skin types. Dermaplaning can be done alone or as an add on to a facial or peel.
Although you may experience light redness there is no downtime and you can wear clean makeup the next day. This is also a great time to use quality skin care products such as hyaluronic acid or a good moisturizer as it will soak deeply into the skin. You will also need to wear sunblock to protect your new sensitive skin and minimize further damage and hyperpigmentation.
Contrary to popular belief, this treatment does not cause the hair to grow back thicker or darker.
Our dermaplaning services are currently $60 (normally $75). Book online or call to schedule your facial today.