Call (702) 987-0400 Book an Appointment Online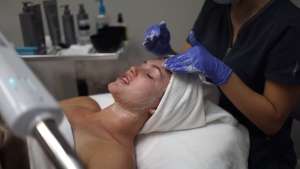 Get your skin looking great! The esthetician services offered at Zenestar are designed to combat complexion problems and get your skin looking its best. Our Signature Facials, VI Peels, Dermaplaning, and Microneeding improve the tone, texture, color, and youthfulness of your skin.
We give personalized service to men and women in a private and comfortable boutique setting conveniently located off the Summerlin Parkway. Our appointment times are flexible to meet the needs of our busy clientele. New clients receive a complementary consultation to determine which of our services are best suited for their needs.
Our rejuvenating signature facial allows the esthetician to do a detailed analysis and customize a facial tailored to your skin. Whether you need a classic facial, a relaxing facial, an acne facial, a hydration facial, or a combination of treatments, Zenestar's skilled esthetician Jacynta Rae Langgin will provide customized treatment for your skin. Enjoy a soothing facial massage and customized mask treatment. Leave with your skin feeling nourished and revitalized.
Our Signature Facials currently start at $130 (normally $145).
Medical grade chemical peels our one of our favorite treatments. Specific peels can address many skin conditions and concerns such as aging, hyperpigmentation and melasma, acne and acne scarring, fine lines and wrinkles, and uneven tone and rough texture. Peels are not just for the face. Peel can be used on other parts of the body for aging and discoloration of the hands, neck and decollate, or on the back for acne or scaring.
Our medical grade VI Peels range in cost from $199-$290. Discounts may be available when purchasing packages.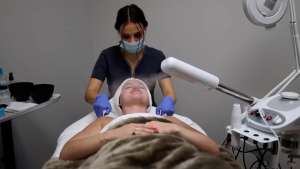 This peel is a combination of brightening acids and lightening and brightening boosters that are effective at combating all types of pigmentation. This solution effectively exfoliates and promotes rapid cellular turnover for improved skin tone and texture.
This peel formulation is the best option for acne and acne scarring. It helps combat acne prone and active acne skin. This treatment is killing the P. bacteria that causes acne, while also fading Post-Inflammatory Hyperpigmentation (PIH) and promoting healthy skin rejuvenation.
Dermaplaning (or blading) is one of the most in demand skincare treatments currently on the market.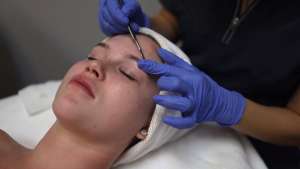 Dermaplane treatments provide immediate improvement in overall skin brightness, immediate improvement in skin texture, removal of dry, dead skin cells, and removal of vellus hair. Uncover new, nourished, and rejuvenated looking skin with this treatment. There is no downtime with this service, and results are visible instantly.
Dermaplaning treatments can also be done prior to other skincare procedures, such as chemical peels or facials, in preparation for better product penetration. When done before a chemical peel, the ingredients within the peel can penetrate deeper within the skin. This is ideal for clients with deeper acne scarring, hyperpigmentation, wrinkles, or simply wanting an advanced exfoliation treatment.
Our dermaplaning services are currently $60 (normally $75).
Microneedling is a technique where tiny holes are made in the skin with a specialized tool. This controlled microtrauma stimulates an inflammatory and healing response that signals your body to repair the skin, growing new collagen and resurfacing the skin. New collagen formation helps your skin smooth and tighten. Microneedling depth can be adjusted depending on the area treated and the desired outcome. For example, deeper needling can be done over scar tissue to soften the appearance of scars. For topical or shallow depth treatments, the procedure can be done by a trained aesthetician. Microneedling should only be done by a licensed and trained practitioner.
Our microneedling services are $325. Discounts may be available when purchasing packages.
Facials, Peels, Dermaplaning, Microneedling
Let Our Skilled Esthetician Bring Out Your Natural Beauty
Improve the tone, texture, color,
and youthfulness of your skin.
Aesthetic Consultations Are Always Free
Contact Us to Learn More
Call and speak directly with one of our highly skilled practitioners to discuss treatments options and current promotions.
Or set an appointment online for a free aesthetics evaluation.
Zenestar's boutique aesthetics practice offers a unique personalized experience. Visit us today.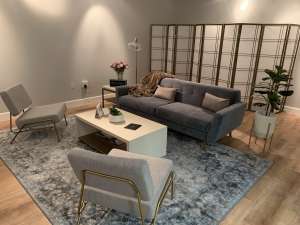 Zenestar is a boutique aesthetics practice located in Las Vegas, Nevada. Zenestar is run by Kim Borghese, a Nurse Practitioner and master injector who routinely trains other aesthetic providers.
Zenestar features a full service aesthetics practice in a relaxed and comfortable atmosphere. Our practice offers a number of treatments to help you look and feel your best, including our Signature Facials, VI Peels, Dermaplaning, and Microneeding.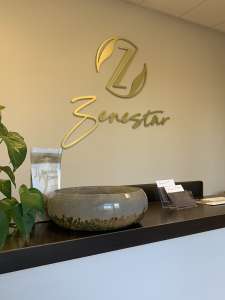 Other popular aesthetic services include dermal fillers. We offer the highest quality lip fillers in Las Vegas for beautiful lush-looking lips. Dermal fillers can also be used to create definition and volume in the cheeks, tear troughs, and temples. Injectable fillers are a popular way to rejuvenate the face without surgery or downtime. We offer a wide variety of cosmetic fillers to help reduce the early signs of aging.
You will receive a free initial consultation and assessment by one of our Nurse Practitioners. If you are a candidate for treatment we can provide treatment the same day. After your treatment we will schedule a follow-up two weeks later to make sure everything looks great.
If you are interested in learning more about our services or would like to schedule an appointment call now or book online.
Our Services
Esthetician Services